Lovebug Valentine Cookies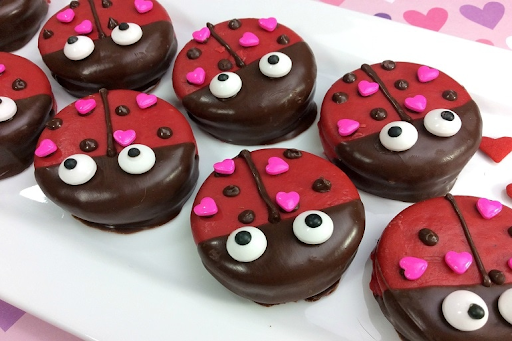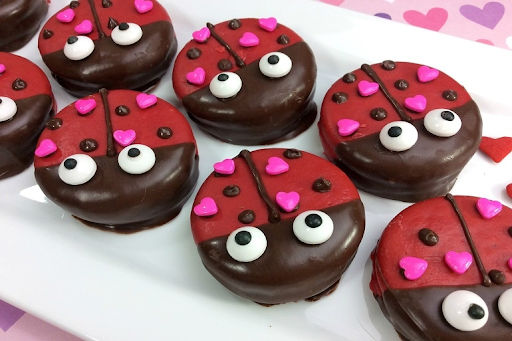 Lovebug Valentine cookies is an easy, fun recipe to make with the kiddos this Valentine's Day! These ladybug cookies are a hit at home or for a classroom treat!
Ingredients:
1 package of Double Stuff Oreos
1 Bag of dark chocolate melting wafers
1 Bag of red candy melts
Parchment paper
Cookie sheet
Double boiler
1 Package of small edible eyes
Mini pink heart candies
Piping bag
Directions:
Place water into bottom of double boiler pot. Once boiling, put top pot on top.
Pour red candy melts into the top pot and mix until melted and blended.
Mix in 2 tablespoons of coconut oil until smooth.
Next, completely submerge Oreo into the melted red candy.
Using a fork, carefully remove Oreos and lightly tap to get rid of excess candy melt.
Let red candy melt harden for 1 hour.
While the red candy melt is hardening, melt the milk chocolate in the double boiler.
Dip the tip of the Oreo into the chocolate for the face of the ladybug.
Repeat with remaining Oreos.
Place two eyes onto the center of the chocolate for the eyes of the ladybug.
Scoop melted chocolate into the piping bag and cut the tip.
Pipe a line down the center of the cookie and alternate big and small dots on either side as spots for the ladybug.
Place pink mini hearts onto the small dots.
Let the ladybugs dry completely before eating.
Enjoy!
Source: Valentines Day Ladybug Oreo Treats
Related links: Heart-Shaped Valentine Cookie Recipe
Share This Article!