Easter Chocolate Hot Cross Buns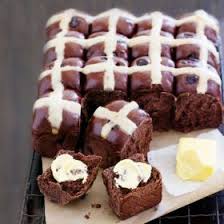 Indulge with our chocolate hot cross buns recipe for Easter. It is a warm, homemade and yummy holiday treat.
Ingredients: Makes 16 
2 tbsp. instant dried yeast
1/2 c sugar
1.5 c lukewarm milk
4.5 c plain flour 
1 tbsp. salt
3.5 tsp butter melted
1 egg lightly beaten
1 tsp cinnamon
2.5 c of chips
For Glaze
1/4 c sugar
1/4 c hot water
1 tsp gelatin
For Crosses:
Mix yeast, sugar and warm milk in a bowl and stir to remove any lumps. Set aside for 15 minutes until it becomes frothy.
In a large bowl, sift flour and salt. Make a well in the center and mix in the yeast mixture, butter, egg, cinnamon and 1/3 of the chocolate chips.
Knead dough for 5 minutes until elastic and place in a greased bowl covered with saran wrap in a warm area. Leave for 1 hour to 1 1/2 hours until dough doubles in size.Preheat the oven to 400 F.
Punch down the dough and add the remaining cinnamon chocolate chips. Knead lightly and divide into 16 balls. If you want to add a little more chocolate to our buns: add a small chuck of you favorite semi, milk, or dark chocolate to the center of each ball (bun). Place close together on a greased baking tray. Cover with saran wrap and allow to rise in a warm place for 20 minutes.
Bake for 20-30 minutes until done. While it is baking, get the glaze ready.Glaze: simply mix all three ingredients together shortly before the time is up on the buns
When buns are ready, brush with glaze.
Melt white chocolate and spoon into a zip lock bag. Then, cut a small corner to use as piping bag to drizzle the chocolate. Draw lines across top with the drizzle. Let chocolate dry. Top with butter to taste.
Read about more delicious Easter Desert Recipes.
Share This Article!