Healthy & Fresh Homemade Popsicle Recipes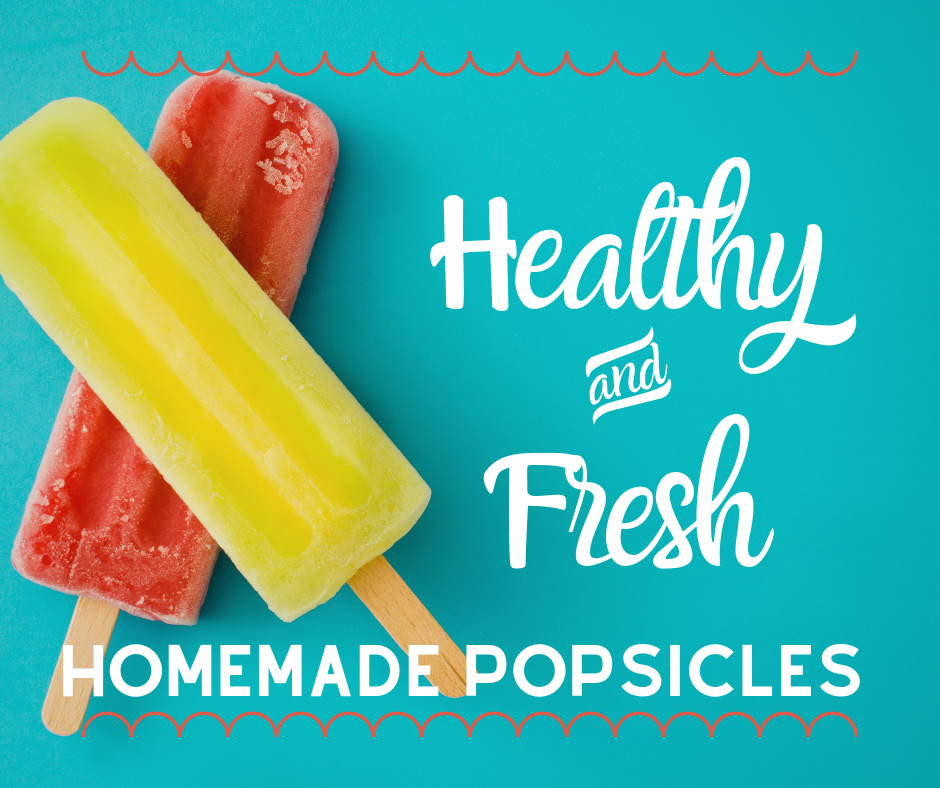 Every summer, my mom and I made amazing popsicles recipes! It was a fun and special treat to make together as a family.
They're healthier than store-bought popsicles, incredibly simple, and the options are endless. Some of the recipes (coconut water based & watermelon based) are GREAT for keeping kids hydrated and replenishing electrolytes on hot summer days.
Get creative! We'll include a few different ways to make them, but we encourage you to experiment. Let the kiddos come up with some ideas for new flavors – you might create a new family favorite!
---
---
First, you will need some basic equipment:
Blender or food processor
Cutting board and knife for cutting fruit
Popsicle molds (don't have any, check some of these out! (amazon links x 3)
If you need popsicles molds, check out some of these options:
---
Fresh Fruit Popsicles
Ingredients:
2 cups of fresh fruit
1-2 tbsp of agave or stevia, or 1/4c sugar
½ c warm water
Alternative option: substitute 1/2 c juice + 2 tblsp warm water for sugar and water
Directions:
Place ingredients in blender. Puree until smooth. Sweeten to taste. Pour into popsicle molds and freeze for approximately 6-8 hours.
Coconut Water & Fruit Popsicles
1 – 17oz container of coconut water
1 ½ c fruit or fruit puree
2 tbsp agave or honey, if desired
Directions:
Pour coconut water into blender. Add in fresh fruit and sweetener. Pure until smooth. Pour into popsicle molds. Freeze for 6-8 hours.
Rainbow Popsicles
2-3 types of fruit, 1/2 cups of each
1/2 c warm water
6 tablespoons of sweeter (honey, stevia, or sugar), divided into 3
Directions:
Put one type of fruit in the blender with 2 tablespoons of sweetener and a little warm water. Blend until smooth. Puree should be thick. Pour into a container and set aside. Repeat with the other fruits.
Fill popsicle molds 1/3 full of one fruit puree (if only using 2 types of fruit, fill 1/4 full). Pour second type of fruit into molds until 2/3 full. Repeat until molds are full, alternating fruits. Freeze 6-8 hours or until completely frozen.
Watermelon & Strawberry Popsicles
3-4 cups of chopped watermelon
1 cup of chopped strawberries, caps removed (or berry of your choice)
1/4 c of honey, sugar, or agave, if desired
Directions:
Place watermelon and strawberries in blender. Puree until smooth. Add in sweetener to taste. Blend thoroughly. Pour into popsicle molds. Freeze 6-8 hours or until completely frozen.
Other options:
Watermelon lime:

5 cups of watermelon
1/4 cups of lime juice
1= sweetener

Watermelon Basil:

5 cups of watermelon
1/2 c chopped basil

Watermelon orange:

4 cups of watermelon
1 peeled orange, chopped & seeds removed
Fudgesicles with Nutella or Chocolate
1 container of Cool Whip or whipped topping
1/4 cup Nutella, Hershey's syrup, or hot fudge sauce
3/4 cup Milk
Directions:
In a large mixing bowl wisk together ingredients until well blended. Spoon into popsicle molds. Freeze approximately 6-8 hours until frozen.
Share This Article!