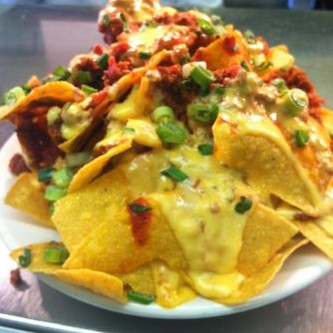 Don't leave your snacking to chance! Follow this nacho easy-to-make fool-proof recipe you create perfectly delicious results every time. You'll make the yummy to the tummy gooey to crunchy ratio!
Ingredients:
Directions:
Preheat oven to 350
In a large glass tray (9×13), grease the bottom and sides of the pan, layer the pan with a generous layer of tortilla chips, flick small to medium size dollops of refried beans around the layer of tortilla chips, and do the same with drained fresh salsa, sprinkled diced green onions on chips and a generous layer of cheese on top of chips. When the cheese has covered the first layer of chips, repeat this process and make two to three layers–bake in the oven for 15 to 20 min. My teenage son and friends can't get enough of them.
Additional TOPPING OPTIONS: ground beef, shredded beef or chicken, black olives, onions, jalapenos, guacamole, and sour cream.
If you are entertaining you will love this recipe.
other blog recipes: Mini Pizza Bagels Lunch, Chocolate Covered Peeps!
Share This Article!