Ways to Celebrate Valentine's Day as a Family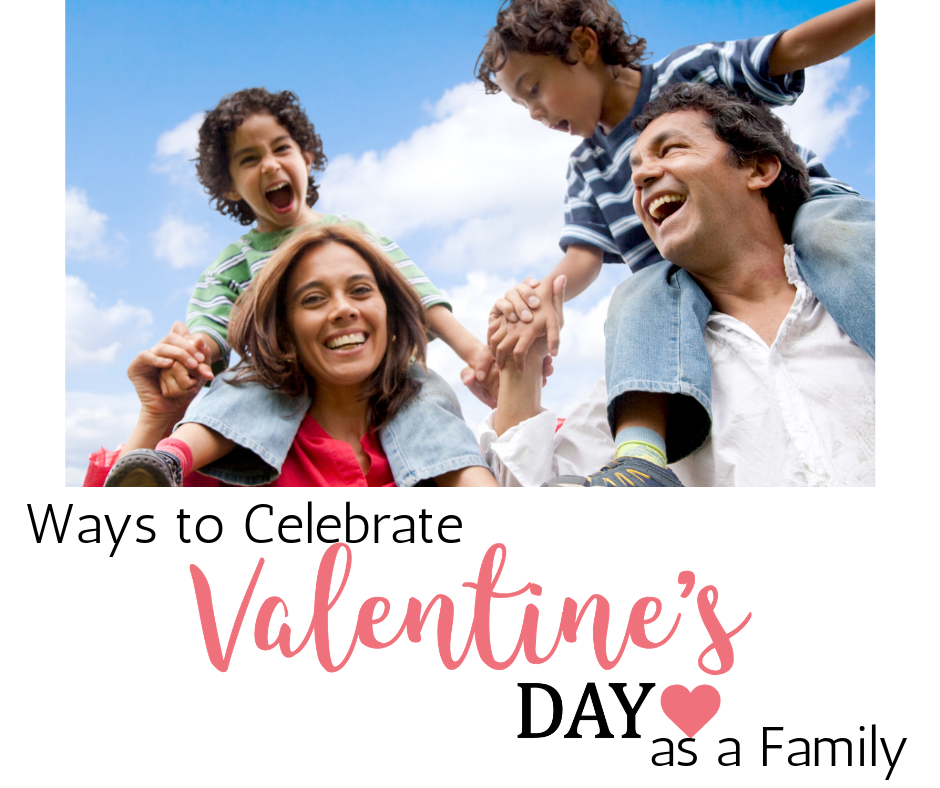 Oh, the ways to celebrate Valentines Day… gifts, romantic candlelit dinners, walks under the stars… and hyped-up kids with stomach aches from too much sugar school.
For many parents, Valentine's Day will look a little different– but that doesn't stop it from being meaningful or fun! Valentine's Day is a perfect holiday to celebrate as a family, and help kids learn how to show the people they care about that they love them.
Here are some activities you can do as a family to help create a positive, simple, and meaningful Valentine's Day!
Make "Love Jars" to fill with Valentines: Get a mason jar (or a paper bag!) for each person in the family. Designate a jar for each person, and decorate them.  Make a little station with a stash of crayons, markers, and small pieces of paper near the jars.  Each day, have everyone in the family write a few little 'notes' to others in the family, and put them in their jar.  Fill in the blank notes may be easier for younger children, or you can type up questions for prompts.  Write compliments, favorite memories, anything positive!  It can be as simple as "I like when we read stories together", or little drawings, or longer letters. Be creative, and think about what will be simple, easy, and fun for your kids to do. On Valentine's Day, everyone gets to open their jars to see their love notes!
Cookie Decorating Contest: Make some oversized, heart-shaped cookies. Have sprinkles, icing, and candies available for decorating.  Make sure you have lots of wax or parchment paper as well to keep your decorating space (somewhat) clean.  Each person in the family decorates a cookie for a decorating 'contest'! This activity also works great with pancakes!
Put together care packages for a nursing home or local homeless, women's, or animal shelter:  For many non-profits, February can be a bit of donation 'dry spell'.  Consider donating time or supplies to a cause that is close to your family's heart – an animal shelter that you adopted a pet from, the nursing home of a relative, or a homeless shelter in your community. It's a great reminder to your kids that showing love to others can help make the world a more positive place!
Spoil your kid's teacher:  It is NEVER a bad time to spoil your kid's teachers.  February in 'teacher world' is often one of the most difficult months – post-Christmas break unmotivated kids, very little sunlight, Spring break is several weeks away, crunch time for annual testing begins, and the anticipation of Valentine's Day can heighten student emotions.  In the first or second week of February, pick up some small baskets or bins for your kid's teachers.  Have your kids think about some little gifts for the teachers for their classrooms or for their own enjoyment (the dollar store is a great way to start!).  Include little treats, $5 gift cards, appreciation notes, a mug, etc, to help your kid's teacher's feel loved and appreciated!
Play an archery game, or take a family archery lesson or class:  Is there a better way to celebrate the day of Cupid than archery?!  For little kids, there are age appropriate archery toys with foam or suction cup arrows.  If it's warm outside, set up some targets outside.  If it's too cold, use a foam or suction cup bow and arrow set with a target in a low-damage-risk area of the house, such as a garage, or hallway.  For older kids (usually 7+), try looking for an age appropriate archery lesson or class.
Family date: Valentine's Day can be a wild day at restaurants or entertainment places, so you may choose to do this in the week leading up to Valentine's Day. Go bowling, a paint-your own pottery studio, roller skating, or a movie (look for dollar or matinee theaters if money is tight!)
Game or movie night: This is a great family stay-in date night.  Bust out the boardgames or some favorite movies, make some fun treats (like our Old Fashioned Pink Popcorn, or an Ice Cream Sunday Bar!)
We hope you have a wonderful Valentine's Day with you family!
Share This Article!