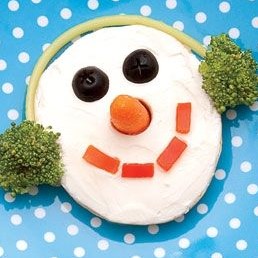 Frosty the Bagel is a super easy snack for the kids to make. You can use a mini-bagel or regular sized bagel for the face. Be creative with the face these are the ingredient we suggest, but you can use raisin for eye and cantaloupe for hair instead of broccoli. Let your kids choose.
Ingredients:
Mini bagel
Cream Cheese
1 baby carrot
Sliced black olives
Sliced red pepper
Celery
Broccoli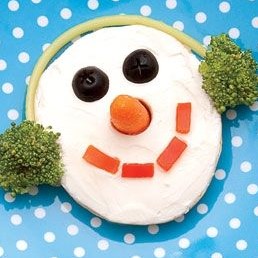 Directions:
Spread half a mini bagel with cream cheese, then add a baby carrot nose, sliced black olive eyes, and a sliced red pepper mouth.
For the earmuffs, simply curve a thinly sliced piece of celery along the top of the bagel as shown and hold it in place with a broccoli floret at each end.
Related links: Christmas Tree Brownie Recipe
If you want be make your kids Grilled Cheese for lunch follow the link.
Share This Article!