Christmas Tree Brownie Recipe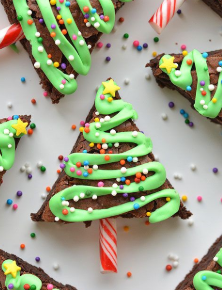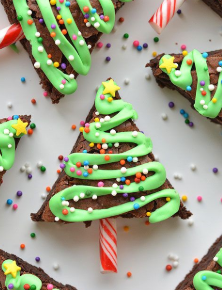 How fun will it be to make Christmas Tree Brownie with your children! It's an easy way to dress up brownies for a kids party.
Ingredients:
1 box of Brownie mix
1 tub of white vanilla icing
Green food coloring
Small round sprinkles
Small star sprinkles
Candy canes
Get an 8″x 8″ Follow the instructions on the brownie mix package and bake. Make sure brownies cool for about 1.5 hours until they are completely set.
Remove the brownies from the pan and cut them into triangle shapes. (Cut in 3 rows, and then cut in alternating diagonals). Unwrap the candy canes and cut or break them into 1.5″ long pieces, using a knife. Stick one candy cane into the bottom side of each brownie triangle
Spoon out about 1/2 of the tub of icing into a bowl. Add green food coloring. Spoon the green icing into a bag, seal it, and cut a small corner of the bag with scissors.
Starting at the top of the brownie triangle, squeeze out icing in a zigzag as you move down the tree. Add as many sprinkles as you like to the brownie trees. Place a star at the top to complete the tree.
Tip if you put a sheet of foil on the bottom and cover the sides of your pan, when you flip it over to remove the brownies they should side out perfectly.
Enjoy delicious treats and have a fun time creating them.
Try this suggestion Rudolph Reindeer Brownies for Christmas from your cup of cake blog.
Related links: Frosty the Bagel Recipe 
Share This Article!