Soda Shop Inspired Chocolate Milk Shake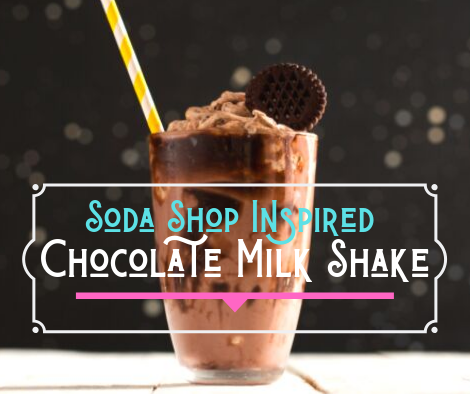 Anytime my mom and I would go shopping in the summer we would stop by a little 1950's style soda shop called Carl's to get a chocolate milk shake. This was the kind of place where the line would wrap around the building, was only open from March to September, and people would drive 2 hours just to get one.
While living a few hundred miles too far away to get a milkshake from Carl's, I had to figure out how to make these delicious style milkshakes at home. Considering I don't have a 1940's stainless steel custard machine in my house, it's impossible to create an exact clone of theirs – but it's pretty darn close!
Ingredients:
3 large scoops of vanilla ice cream (double- churned or gelato works really well!), equaling roughly 1 1/2 cups
1 1/2 cups of milk
1/2 tsp of vanilla extract
1/3 cup of Hershey's Chocolate syrup + 2 tablespoons (reserve)
Whipped cream for topping (and chocolate syrup, sprinkles, cherry…you get the idea)
Instructions:
In a blender, add ice cream and milk.
Blend until well mixed and smooth.
Add in vanilla extract and 1/3 of chocolate syrup.
Blend until frothy.
Pour in reserved chocolate syrup into the glass in a spiral, creating a swirl on the inside of the glass.
Pour milkshake into the glass, top with whipped cream, and enjoy!
Variations:
If a plain old' milkshake isn't your style, here are some fun variations to try!
Chocolate chip: add in 1/4 cup of chocolate chips
Nutella: reduce chocolate syrup to 1/4 cup, and add in 3 tablespoons of Nutella
Cookies n'Cream: Crush up 3-4 oreos. Pour in the cookie crumbles after blending in chocolate syrup. Pulse blend for 30 seconds. The Novice Chef Copycat Chick Fil A Milkshake: Cookie & Cream
Muddy Irishman (Chocolate and Irish Cream): Make our Kid-friendly Irish Cream and add in 2 tablespoons with the chocolate syrup!
Brownie Crumb: Chop up a brownie. Add in brownie chunks as a final step, pulse blending for 30 seconds
Chocolate Strawberry: Add in 1/2 cup of frozen strawberries with the ice cream and milk.
ENJOY!
Share This Article!