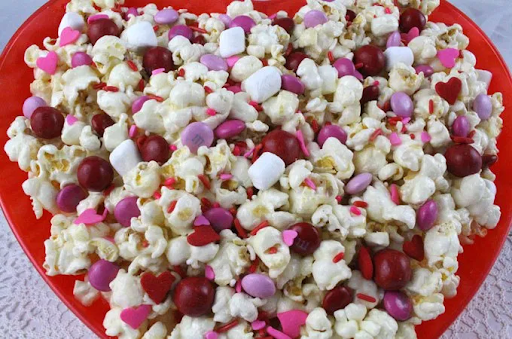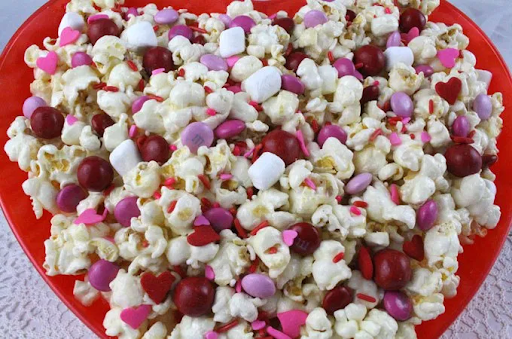 Sweets for your sweetie! Valentine's Day popcorn is a great sweet and salty treat for the whole family!
Ingredients:
1 bag of microwave popcorn light or regular butter (full sized, not snack)
3/4 cup pink chocolate candy melts
1/2 cup white chocolate candy melts
Valentines sprinkles
Valentines Peanut M&Ms
Directions:
Pop the popcorn and remove the unpopped kernels.
Place the candy melts in small bowls or glass measuring cups, one for each color.
Microwave the pink candy for 40 seconds then stir, repeat in 20 second intervals until melted and smooth. (takes 1-1 1/2 minutes dependent on melt brand and your microwave).
Drizzle half over of the bowl of popcorn and toss to coat, Add the remaining pink chocolate candy melt (use a silicone spatula to ensure you get it all out.) Toss the popcorn with your hands until nicely coated. Then spread out onto a large serving platter (or baking sheet, if you are going to bag the popcorn up after).
Melt the white candy melts and drizzle over the platter of popcorn, immediately top generously with candy sprinkles. They will adhere to the melted white chocolate candy.
Finally, toss on the M&Ms. Allow the Valentines Popcorn to cool a few minutes before serving.
Enjoy!
Source: Valentines Day Popcorn Recipe
Share This Article!