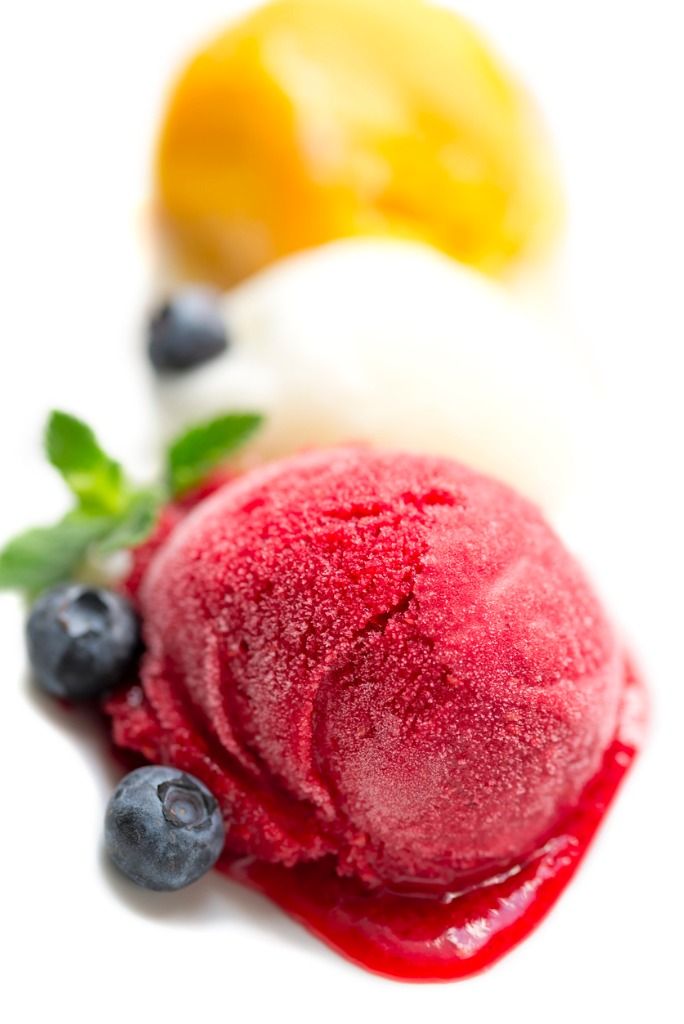 Fruit sorbet is easier to make than you think, and very kid-friendly. Little ones can help measure and prep the sorbet, so it's a great activity for children who like to help! It is also perfect for parties because it is such a simple dessert to make. Perfect for cookouts, a cool treat on a warm summer evening, or 'just because', it is sure to become a staple in your repertoire. It's healthier than ice cream or other frozen desserts, but it is incredibly delicious! It also perfect for holidays and events!
Go red, white, and yellow!
Red: Watermelon, strawberry, or raspberry
White: coconut, apple, or pear (pineapple also comes out off-white)
Blue: blueberry or blackberry
Yellow: pineapple, mango, lemon
It can also be made with cranberry, which can be a fun option for Thanksgiving and Christmas. Kiwi, strawberry, peach, orange, and mango work great for Easter and springtime. The options are endless!
Don't hesitate to get creative and mix fruits and flavors – strawberry banana, mango pineapple, kiwi strawberry, or mixed berry are all great!
To make easy fruit sorbet, all you need is the following:
Frozen fruit
Sweetener (raw honey, stevia, or sugar)
A little lemon juice
Heavy duty blender or food processor
You can use any fruit that you want – just make sure that you dice it before freezing so that it can be easily blended.
The recipe 'base' is more of a ratio – it's easy to double or triple. You can also play around with the sweeteners – try more or less of one, half and half, or different ones. It's customizable to your preference, and you can adjust it as you go along.
Recipe base:
1 cup of frozen, diced fruit (Peel fruit with skins. Canned and pre-frozen fruit can work as well)
1/8 cup of sugar or honey. Look up equivilences for agave, stevia, or other sweetener choices.
¼ tsp lemon juice
Warm water, if needed (no more than 2-3 tablespoons)
Place the fruit, sugar, and lemon juice in the blender. Pulse the blender until fruit is finely chopped, then blend on high until it develops a smooth texture. You may need to stop periodically to add in some warm water and stir the mixture to ensure it evenly blends.
Pour fruit mixture into a food storage container. Place in the freezer until set (approximately 4-6 hours). If the mixture is too frozen to scoop, let it rest for 5 minutes at room temperature.
Enjoy!
Share This Article!