Old Fashioned, All-American Popcorn Balls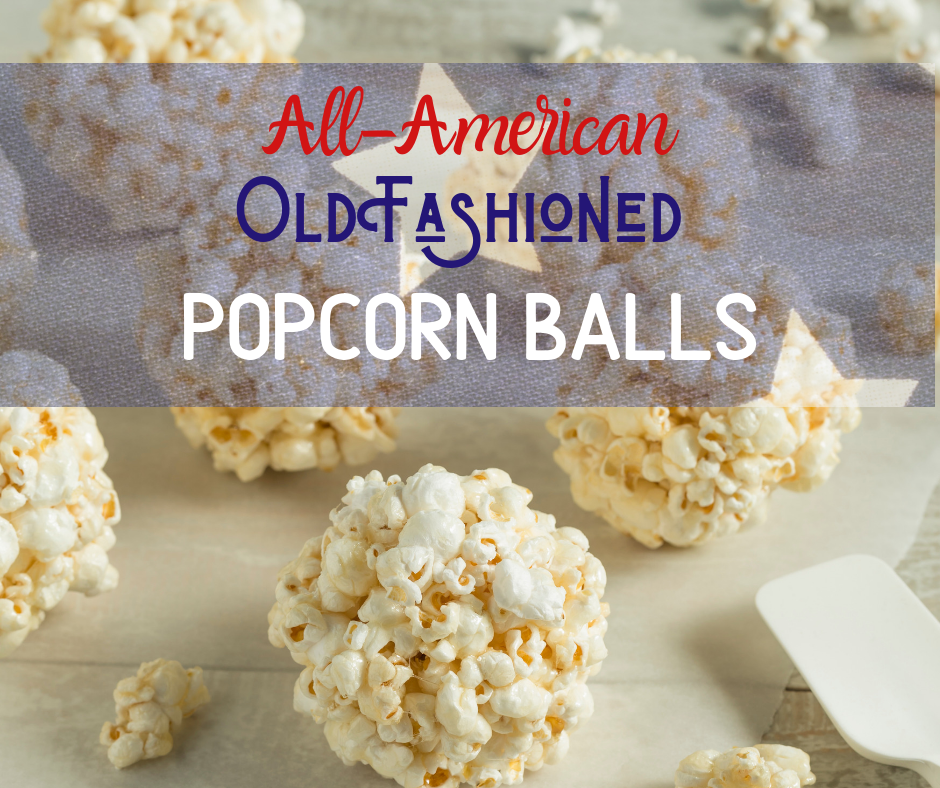 If you've never had (or heard of) popcorn balls, you're not alone. I'll be the first to admit that they are far from modern. Growing up in an area that was founded in 1664, history was a huge part of the culture and popcorn balls were a summer staple.
So what is a popcorn ball?
Imagine sweet, buttery, delicious, sticky kettlecorn smooshed into a candied ball. Sounds amazing, right? They're easy to make, delicious, and fun for the kids to make!
They're also easy to make into a holiday treat with mix-ins (marshmallows, m&m's, candy chunks, and sprinkles all work amazingly well) or by adding a little food coloring. We used to have red and blue ones for July 4th, and orange for Halloween. Cinnamon can be added for a fun fall treat!
The most difficult part of this recipe is using the candy thermometer. It's quick, fun and delicious – so have fun!
What you will need:
Equipment:
Large stock pot
Large mixing bowl
Wax paper or parchment paper
Cooking spray
Rubber spatula
Candy thermometer
Ingredients:
½ – ¾  c popcorn kernels (can make them stovetop, airpopped, or microwave.  You will need about 8-10 cups of popcorn.
1 c sugar
½  c water
1 c corn syrup (can also use molasses or maple syrup for a different flavor)
3 tbsp butter
1 ½ tsp vanilla extract
¼ tsp of salt
Food coloring, if desired. (If using food coloring, use light corn syrup to minimize yellow tint.
Mix-ins, if desired, such as candies, marshmallows, or sprinkles.
Drections:
1. Pop the popcorn kernels in method of your choice. Pull out any unpopped kernels.* Set popcorn aside.
*Trick for getting rid of kernels: pour a few cups of popcorn in a large bowl. Gently shake the bowl for 30 seconds. Kernels will drop to the bottom of the bowl. Scoop out popcorn into another bowl and throw away kernels.
2. Pour sugar, corn syrup, and water into a saucepan. Heat on medium, stirring occasionally to keep sugar from burning. Heat until approximately 235°F. Mix in salt, vanilla, butter, and salt and remove from heat. Stir well. If adding food coloring, add it at this point.
3. Pour syrup over the popcorn, stirring to coat the popcorn evenly. Set aside to cool for 5 minutes. If adding in marshmallows, add while popcorn is still warm. If adding candies, wait until mixture cools somewhat to prevent melting. While the popcorn is cooling, set out a few sheets of wax paper.
4. Spray hands with cooking spray. Shape popcorn into 2-3" balls. Place on parchment paper.
5. Allow popcorn to cool until hardened.
6. Store in a plastic bag, Tupperware, or with plastic wrap to keep fresh.
Enjoy!
Share This Article!