Pasta with Tomatoes & Asparagus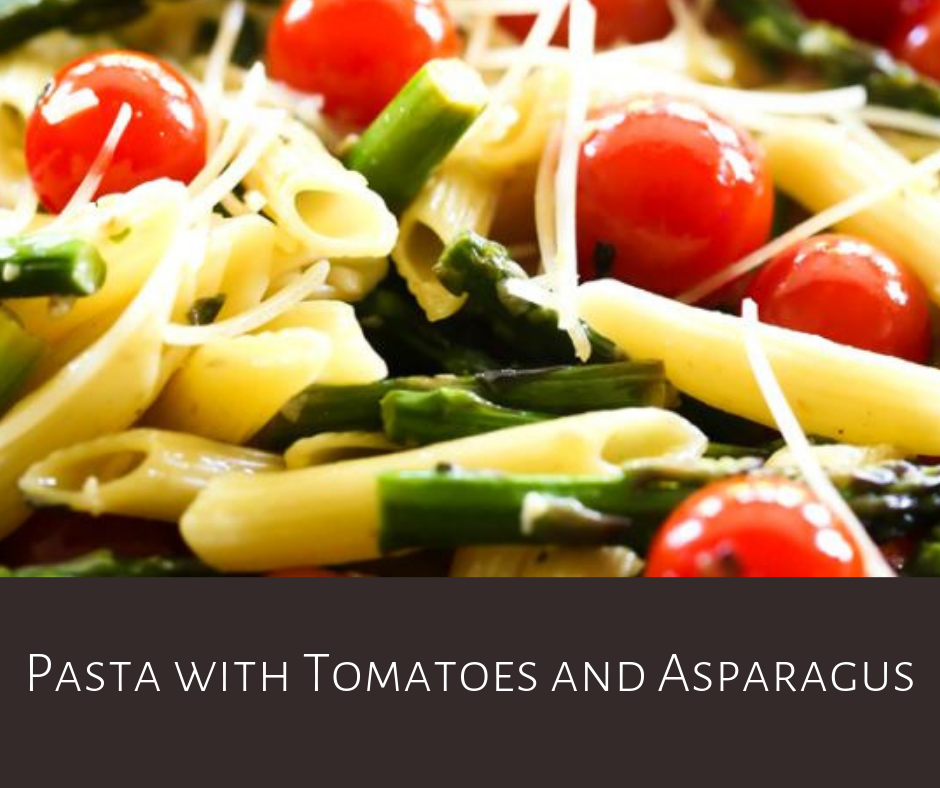 Quick, easy, and perfect for spring!
Pasta with Tomatoes & Asparagus
2¾ cups pasta, whole-wheat
1 ½ Tbsps. Extra virgin olive oil
2 ¼ cups grape tomatoes, halved
1 ½ tsp. dried basil
¾ tsp. sea salt
¼ tsp. ground black pepper
1 Tbsps. fresh garlic, minced
3 Tbsps. whole-wheat flour
2 cups vegetable broth
2 cups Asparagus (pre-cooked into 1 inch bites)
Prep: 15 minutes Cook: 20 minutes
Directions:
1. In a large pot, bring 2 quarts water to a boil. Gradually stir in pasta and return to a boil. Cook uncovered for about 8-10 minutes until tender.
2. Heat olive oil in a large skillet over medium heat. Add half of tomatoes and cook 2-3 minutes until skins soften. Set aside remaining tomatos. Add basil, salt, pepper, and garlic. Stir.
3. Sprinkle flour over tomatoes. Cook for 30 seconds over medium heat until mixture becomes thick. Add vegetable broth. Bring to a boil and then immediately reduce to low heat.
4. Add asparagus and remaining tomatoes. Simmer uncovered over low heat for 1-2 minutes to heat up. Pour over pasta. Serve hot.
Related links: Quick & Easy S'mores
Share This Article!