Tips & Activities for an All-Day July 4th Family Celebration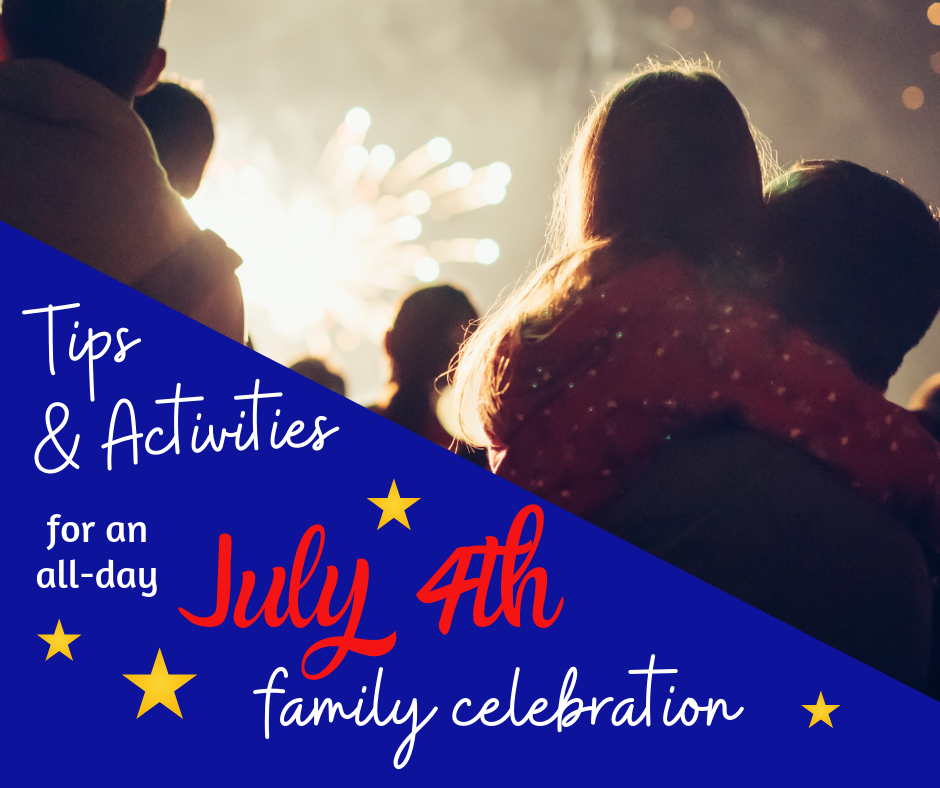 A fourth of July family celebration is so special – between the warm summer air, time together, everything it represents, and the magical fireworks, it's a day to look forward to all year. In addition to an exciting evening, it is an opportunity for a fun-filled day. Here are some fun ideas for making July 4th an all-day celebration as a family:
Attend local July 4 events: Your local community may have a parade and activities happening throughout the day. Getting out is a great way to spend some time as a family and have fun!
Go to a baseball game: There's very few things that are more American than baseball! Find out if your local team is playing a game on the 4th – you'd be surprised at how many games are happening!
Backyard Water Park: creating a water park in the backyard is budget friendly, and with a little time, it can be so fun! It's also a great way to avoid crowds and beat the heat. Set up sprinklers, fill up some water balloons and the baby pool, get squirt guns and big sponges, buckets of water, plastic cups, and a tarp, and you will have a blast! Here's some ideas:

Sponge fight or water balloon fight: Water balloons are always fun, but they do leave behind a lot of plastic. You can also have a water fight with buckets of water and sponges. You can use small or big sponges – either way, it will be a blast!
Slip n' Slide: If you have a tarp and a hose, you can make a slip and slide! Place the tarp on a slight downhill angle to make sliding more fun. If you don't have a downhill slope, a tiny bit of dish soap on the tarp can make sliding more fun. Just know that it may not be great for your lawn. Be careful – make sure that slopes aren't too steep and that the end of the slide is a safe and harm-free spot to land.
Sprinkler obstacle course: Set up an obstacle course throughout the yard with sprinklers, and race to get through without being hit by one!

Make some fun July 4th treats. Here's a few ideas from our blog:
Decorate T shirts, hats, bandannas, or totes for July 4th : All you need is some plain t-shirts or accessories, cloth paint, stick-on gems, cloth markers, and ribbons to make some fun, festive items. Craft stores carry all kinds of things for decorating clothes and accessories, so get creative! Make your own July 4 apparel and accessories for your parade, cookout, or firework event. Want to get extra crafty? Try tie dye!* Most tie dye kits come with instructions. You can also find lots of instructions online on how to make different patterns and designs. It's
Decorate a blanket to sit on while watching fireworks: Buy a cheap blanket to decorate, or use an old sheet for a firework blanket! Decorate it with tie dye* or cloth paint. You can also cut scrap fabric shapes into stars, stripes, flowers, etc., and glue them onto your blanket with fabric glue. You can make a fun tablecloth for picnics and cookouts the same way.
*note that tie dye typically needs to sit overnight, and then must be washed alone or with other tie dyed items before wearing or using.
We hope you have a wonderful time celebrating the 4th with your family, and that you enjoy celebrating the independence of this great country!
Share This Article!