Destination Sitter's Book Review Selection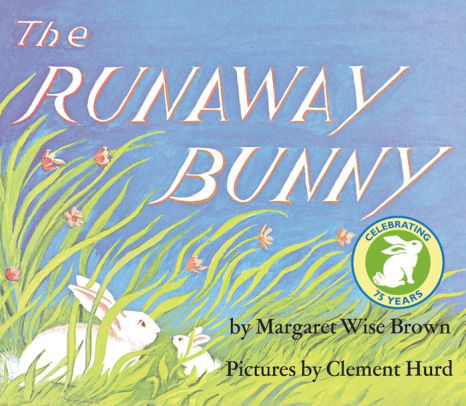 The Runaway Bunny by Margaret Wise (1942)
Read aloud 2+
Read alone 5+
Our sitter book review selection
The Runaway Bunny is a picture book written by Margaret Wise Brown and has illustrations by Clement Hurd. If your children are book lovers, they might recognize that this same bunny is in another classic book, Goodnight Moon. There are three books in Brown and Hurd's series that intertwine illustrations, The Runaway Bunny, Goodnight Moon, and My World. These three books were published together.
The Runaway Bunny begins with a baby bunny and a mother bunny alongside a stream. The little bunny decides that he wants to run away and his mom begins to tell him that she will follow him wherever he goes because he her is her little bunny and she loves him. The little bunny tells his mother that he will turn into a fish in a trout stream, a rock on mountain, even a bird! No matter where he goes or what he turns into, his mother tells him that she will follow him. Eventually the little bunny says that he will turn into a boy and run into a house, his mother replies that she will be inside the house waiting to give him a big hug.
The Runaway Bunny enables children to use their imagination alongside their parents. The text reinforces to children that no matter where they go, their parents will be at their side, guiding, and protecting them. There are two different publications of this book, both are illustrated beautifully and simply. It would be a great idea to read multiple books in the Brown-Wise series so young children can compare and contrast different things to pique their interest. Young children would also be able to point out and match the similar illustrations within each book.
This is also a great book to read to your children before they search for Easter eggs this month!
Happy reading!
Kristy
Other articles: Tips for Keeping Reading Skills on Track
Read on video The Runaway Bunny by Yvonne Wonder:

Share This Article!