Santa Barbara Hotel Babysitter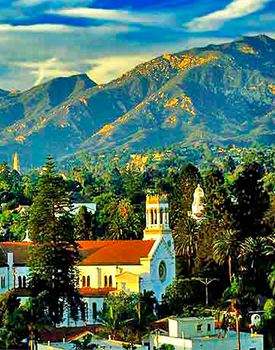 Santa Barbara is a dramatic coastal city with Mediterranean-style white stucco buildings with red-tile roofs that reflect the city's Spanish colonial heritage. State Street, in downtown, is beautifully lined with trees, upscale boutiques, coffee shops, enchanting courtyards and passageways just off the street, and restaurants offering local wine tastings. Santa Barbara was recognized as one the nation's "Top Small Cities in the US" by Conde Nast Traveler 2017. If traveling with your children or on a staycation, visiting for a wedding, or want to take a day trip wine tasting, let us help give you Peace of Mind® and a carefree night with your spouse. Rest assured that your child will be safe with an excellent babysitter who will keep them entertained.
Destination Sitters offers a trusted babysitting service in Santa Barbara. Our sitters come to your hotel room, wedding or corporate venue, Airbnb, or vacation rental. We only supply you with fully-screened, vetted, and trusted babysitters.
Destination Sitters prescreen requirements:
• CPR certified
• First Aid certified
• Background checked
• Drug tested
• Health checked
• Professional references checked
• Personal references checked
• Sitters average between 22-28 years old, though we also have older sitters (minimum age is 18)
• Multiple languages
• Sitters for families of children with special needs
Many of our sitters are university students, nursing students, some of whom are also life guards, EMTs, tennis instructors, school teachers, and so on…
Local Area Things for Parents to do
Santa Barbara Mission
Botanic Garden
El Presidio de Santa Barbara
State Street exploring
Stern Wharf
Kayaking, Paddle Boarding, Sea Doo's
Scenic hikes above Santa Barbara
Karpeles Manuscripts
Santa Barbara County Court house – observation tower
Santa Barbara Historical Museum
Santa Barbara Museum of Art
Arlington Center of the Performing Arts
Granada Theatre
Sunday's Arts & Crafts Show on Cabrillo Blvd.
Ganna Walska Lotusland
Santa Barbara Maritime Museum
Summerland
Carpinteria
Montecito
Local Attractions fun for kids
Santa Barbara Zoo
Santa Barbara Rock Gym
Surrey Bike rides along the ocean
Santa Barbara Certified Farmers Market
Shipwreck Playground and Carousel
McConnell's Fine Ice Cream
Santa Barbara Museum of Natural History
Stern Wharf & TY Warner Sea Center
Sea and Land Tour
"Destination Sitters," the oval logo, the Destination Sitters girl and other artistic elements and logos, along with "We don't sit, we play!" are service marks owned by Destination Sitters, LLC. Copyright Destination Sitters, LLC, a California limited liability company, 2008-2019. All rights reserved.