Orlando Hotel Babysitter Service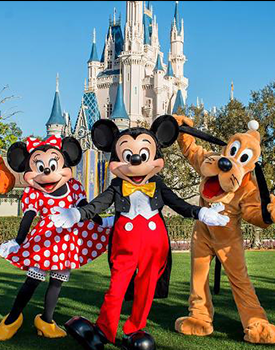 Orlando is the perfect dream vacation destination for families, couples, and single travelers, or for groups of any size—all in for a unique, unforgettable experience. For visitors who desire a fantasy experience, the Disney World collections, Universal Studios, and Sea World properties are all that and more. All 3 properties are so large it is impossible to conquer any of them in one day, so be prepared to pace yourself. Also, Orlando is a true golfer's paradise with more than 150 golf courses, acclaimed golf academies and some of world's most prestigious tournaments.
There is truly something for everyone: world-class shopping, acclaimed arts and culture, luxurious spas, ecotourism adventures, beaches, and Cape Canaveral are only a few of the one-of-a-kind experiences waiting for you in Orlando.
Are you in Orlando and in need of some down time? Looking for a dining out evening, spa time, or some time off from the children? We provide Peace of Mind ® for the traveling parent. For your convenience, we come to your hotel, Airbnb, or vacation rental. All of our sitters are fully-screened, vetted and trusted.
Destination Sitters babysitters:
• are background checked
• are First Aid & CPR certified
• are drug tested & health checked
• have professional and personal references checked
• speak multiple languages, and we have
• sitters for families of children with special needs

We have sitters who can provide elder care by watching or accompanying elder parents and we also do pet sitting for dogs and other animals!
Local Attractions
• Ride The Orlando Eye
• Orlando Tree Treck Adventure Park
• Zipline at Gatorland
• Madam Tussauds
• Blue Man Group show
• Swim, hike and play games at Kelly Park
• Go for a ride on the Slingshot
• Florida Forever Eco Adventures
• Kayak on Shingle Creek with a Master Naturalist
• Race go-carts at Fun Spot
• Orlando Farmers Market
• Zipline over gators at Gatorland
Local Attractions for families with kids
• The Orlando Eye
• SEA LIFE Orlando Aquarium.
• Rock Wall at the Oviedo Recreation Gym
• Kelly Park - tubing in the free-flowing natural spring
• Orlando Watersports Complex
• Whirly Dome
• The World of Chocolate museum
• Slingshot
• Florida Forever Eco Adventures
• iFLY
• Green Meadows Petting Farm - milk a cow or take a pony ride
• Medieval Times Tournament–a fun night out for the entire family.
• Happy Days Family Fun Center
• The Orlando Farmers Market
• Explore Kids Town at the Orlando Science Center
• LEGO Store at Disney Springs
• Ripley's Believe It Or Not
• West Orange Trail - bike on the 22-mile trail
• Orlando Balloon Rides
• Castle Park - a large wooden playground
• SKELETONS - Museum of Osteology
• Paddle the waters of Lake Eola on a Swan Boat
• The Orlando Repertory Theatre
• Hop on the I-Ride Trolley to explore International Drive
• Winter Park Scenic Boat Tour on a pontoon boat
• Central Florida Zoo & Botanical Gardens
• Leu Gardens story time or movie night
• Great Magic Hall
• Grammy's Indoor Playground
• Popcorn Flicks in the Park at EnZian - picnic and a movie under the stars
• Kids Cooking Connection – cooking classes
• Orlando Circus School - learn how to fly through the air
• Attend Dr. Phillips Center for the Performing Arts
• Introduce your kids to improv with family friendly shows at SAK Comedy Lab
• Train-obsessed kids will enjoy their free ride around the city on the SunRail
• Cook pastry at Farris and Fosters
• Makinson Island catered camping
• Outta Control Magic Comedy Family Dinner Show
"Destination Sitters," the oval logo, the Destination Sitters girl and other artistic elements and logos, along with "We don't sit, we play!" are service marks owned by Destination Sitters, LLC. Copyright Destination Sitters, LLC, a California limited liability company, 2008-2019. All rights reserved.