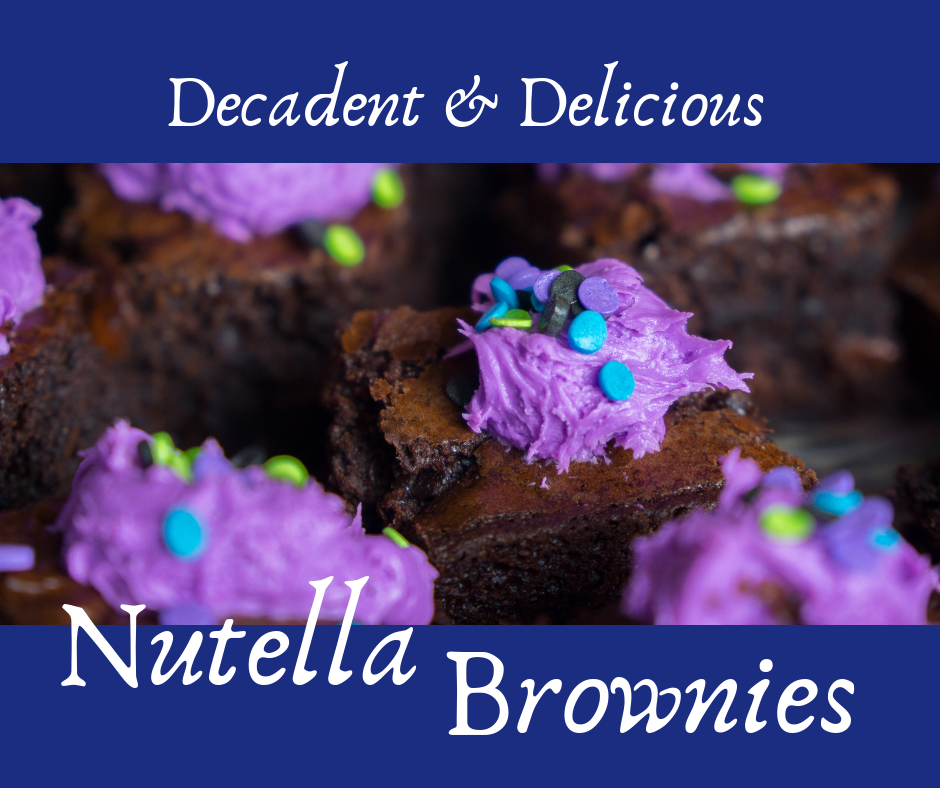 These brownies are decadent and delicious! Fudgy, full of chocolate chips, and delicious Nutella make these a definite crowd-pleaser.
They're also the PERFECT addition to a Sundae Bar whether you use whole brownies or make brownie crumbs!
INGREDIENTS:
1 cup (2 sticks) butter
2 1/4 cups sugar
1/2 cup Nutella
4 large eggs
1 1/4 cups cocoa powder
1 teaspoon salt
1 teaspoon baking powder
1 teaspoon espresso powder, optional
1 tablespoon vanilla extract
1 1/2 cups all-purpose flour
10 ounce package Hershey's Milk Chocolate Baking Melts (or chocolate chips)
DIRECTIONS:
Pre-heat the oven to 350 degrees.
Butter a 9 x 13 baking dish
In small saucepan over low heat, melt butter completely.
Stir in sugar and continue cooking for 1-2 minutes, stirring constantly. Do not allow sugar mixture to boil.
Remove from the heat and stir in the Nutella until well combined.
Pour butter mixture into a large bowl or mixer (I prefer a small hand mixer), beat in cocoa powder, eggs, salt, baking powder, espresso powder, and vanilla extract. Mix until well combined.
Stir in the flour and baking melts until just combined.
Spread into prepared pan (batter will be very thick and sticky) and bake for about 30-35 minutes, until a tester comes out mostly clean.
The edges should be set and the center should still look slightly moist, but not uncooked. Cool on a wire rack.
Want to make them holiday themed? Break out some colorful icing, holiday candies, or sprinkles, and get to decorating! If using sprinkles and candies, decorate when still warm. For icing, wait until cool so that your icing doesn't melt. You can also cut them into holiday themed shapes – triangle for Christmas trees, eggs for Easter – get creative!
Related links: Glazed Donut Pancakes
Share This Article!