Old Fashioned Pink Popcorn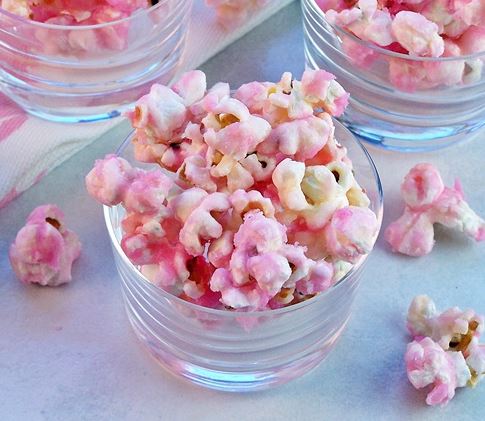 Old fashion pink popcorn brings back memoires from my childhood. I remember going to the Oakland Zoo with my family, and seeing the pink popcorn on display in the concession stand window is a feeling of nostalgia.
Old Fashioned pink popcorn is a great Valentine's gift, but you can make it year round by just changing the colors to the holiday; green for St. Patrick's Day, yellow for Easter, red for Mother's Day, red, white and blue for the 4th of July the possibilities are endless.
Ingredients:
1 cup popcorn kernels, popped
2 1/4 cups sugar
3/4 cup half & half
1 TBSP light corn syrup
¼ tsp salt
1 tsp vanilla
6 drops red food coloring (or any color you want)
Directions:
Pour popped popcorn into two large mixing bowls, set aside. In a large saucepan whisk together sugar, half and half, corn syrup and salt. Cook over medium high heat, stirring constantly until sugar has dissolved and  heat to 232 degrees. Immediately remove from heat and pour in vanilla and food coloring. Drizzle mixture over popped popcorn mix until popcorn  is evenly coated and coating begins to dry. Pour mixture onto waxed paper and allow to dry about 20 minutes. Store in an airtight container.
Other recipe from our blog: Old Fashioned All American Popcorn Balls
Adapted from: Cooking Classy blog
Share This Article!