Back-To-School Tips for Parents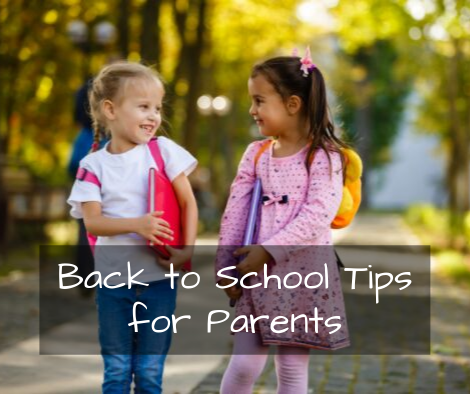 Back to school or a child's first time in school can cause great anxiety. Children do not know what to expect and that can often be scary for most. As a parent, there are some things you can do to help your children feel confident and ready for school.  
Before School Begins:
You and your child should meet the teacher
Tour the school
Connect with friends who are going to the same school
Get school supplies ahead of time and talk about what your child will do with them
Start changing sleep patterns before school starts so getting up and ready won't be so hard!
Try out your school routine a few times before school starts, including breakfast and a ride to school or a walk to the school bus stop  
After school starts:
Even after school has started, you might consider a visit during the day to let your child "show off" his new environment. If possible, and if your child wants to, stay for lunch so that he can also "show off" his new friends.
Take a tour of the school and classroom to familiarize yourself with the school.
Get a schedule of the regular day so the two of you can go over it at home.
Establish a daily routine once school starts. Try to enlist your child's help with snacks/lunch and with transportation to and from school (do they want to walk with their friends, bike, etc.?).
Dress your children comfortably for school. Tennis shoes are always a good idea because children run around on the playground. Easy clothes to get on and off in the bathroom are also a good idea. If your child is comfortably dressed, she will feel more comfortable in school without you there.  
And always remember: if you are anxious about your child going to school, they will be anxious. Kids feed off of their parents' actions, so relax, and be excited about your child's school adventures!
Share This Article!